---
Congratulations to former Southern Maryland Baseball Camp Standout Max Steinhorn: Baseball and Academics Go Together!

Steinhorn Selected Google Cloud Academic All-American by CoSIDA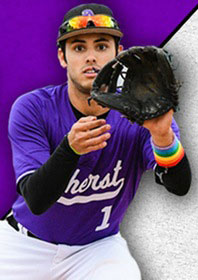 Senior second-baseman Max Steinhorn has been named to the Google Cloud Academic All-America Baseball Team, voted on by the College Sports Information Directors of America (CoSIDA). Steinhorn, a member of the Division III Second Team, becomes the 34th Academic All-America selection in Amherst College history, and the third member of the baseball team to receive the award. With a .365 batting average, Steinhorn led the New England Small College Athletic Conference (NESCAC) champions to an NCAA Tournament appearance, also pacing the club with 16 stolen bases, 35 runs scored and 57 hits, which led the conference. A history major with a 3.90 grade point average, Steinhorn was previously named Academic All-NESCAC and Google Cloud Academic All-District, as well as NESCAC All-Conference Second Team. Owner of a .328 four-year batting average, Steinhorn is finishing an Amherst career in which he has scored 110 runs, collected 162 hits and stolen 51 bases. Read More


---
Isaiah Pasteur, of George Washington University, Drafted in the 13th Round by the New York Yankees and Named ECAC Player of the Year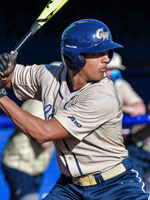 The GW baseball team was well represented on the third and final day of the 2018 MLB First-Year Player Draft as Isaiah Pasteur, Will Kobos and Robbie Metz all heard their name called, marking the second-most draft picks for the Colonials in school history. Pasteur was a 13th round selection by the New York Yankees, Kobos went to the Pittsburgh Pirates in the 19th round and Metz was taken in the 25th round by the Colorado Rockies. The three selections is exceeded only by the 2002 draft when six Colonials were selected, while GW also had a trio of players taken in 2000.

Pasteur, a native of Westminster, Md., was the 2017-18 Atlantic 10 Player of the Year and also earned POTY honors from the Eastern College Athletic Conference. He made history throughout the season with his program-record 32-game hit streak and conference-record three consecutive Player of the Week awards. He led the A-10 in runs, triples, total bases and slugging percentage, while ranking in the top three in hits, home runs, stolen bases, RBIs and at bats. Pasteur's production wasn't limited to offense, as he also held a 2-1 record with a 3.45 ERA in 12 appearances on the mound. Read More. Read Article on Pasteur as ECAC Player of the Year.
---
Kernels' Sean Miller is Moving Up Fast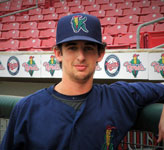 Miller, the first of the Minnesota Twins' 2015 draft class to suit up for the Kernels this season (Chris Paul joined Cedar Rapids later), was a "young junior," to use Kernels manager Jake Mauer's words. He was just 20 years old throughout his junior year of college and won't turn 21 until after the current season ends.



SEAN MILLER
Southern Maryland Baseball Camp
Spalding High School
USC Aiken University
On to College!!


Zach Piazza
Northern High School
Limestone College


LaVale Hodges
Spalding High School
USC Aiken


Joe Benitez
Spalding High School
USC Aiken


Mateo Gil
Grand Street Campus H.S. New York
Salem College, WV

Mac McGrath
Northern High School, MD
Eastern University, PA

Bryce Rogers Black
Northern High School, MD
Radford University

Cody Fowler
Northern High School, MD
Chesapeake College

Danny Goucher
Huntingtown High School
Chesapeake College

Cam Haymans
College of Southern Maryland
Kings College, TN

Spencer Horwitz
St, Paul's High School
Radford University

Brady Logan
Fallston High School
Salisbury University


Bryce Logan
Fallston High School
Salisbury University

---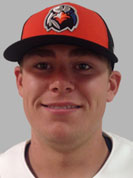 RYAN MEISINGER
Southern Maryland Baseball Camp
Radford University
11th Round Draft Pick
Baltimore Orioles
All-Star for The Aberdeen Ironbirds
---