Southern Maryland Baseball is now on Facebook!!!!!


---
SOUTHERN UNIVERSITY-HEAD BASEBALL COACH ROGER CADOR AND NEW PITCHING COACH DAN CANEVERI
Watch video here
---
Anthony Felitti Commits to the University of Virginia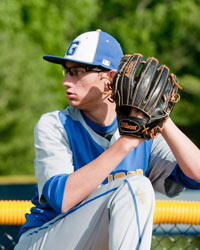 Anthony Felitti Committed to the University of Virginia in 2014. The 2016 LHP is one of the top players in the class of 2016 and part of a talented rotation at Gaithersburg high school. He was also recently mentioned as one a potential player to represent Maryland in the Super 60. You can read that article by clicking HERE. Felitti was kind enough to speak with PBR Maryland about his decision and the recruiting process.

What was the recruiting process like for you?
-- I wasn't really sure what to expect during the recruitment process nor did I expect to commit in my sophomore year. I thought I would not make a decision until the spring of my junior year. It was exciting to have many colleges interested in me and wanting me to join their program.

What were the key factors you were looking for in your college decision?
-- What I was looking for in a school was academics because they come first. If you are not successful in the classroom you will not be successful on the field. Secondly I was looking for a team that has a strong bond and functions like a close-knit family. I was also looking for coaches who have a rich baseball history and knowledge. Coach O'Connor and Coach Kuhn have been together for many years and have always ran a great program. They have not had a single arm injury since they have been at UVA.

When did things heat up in your recruitment? -- Things started to heat up in my recruiting process when I attended the Southern Maryland Baseball Camp last winter. This is where I got all of my exposure and is where my future head coach Brian O'Connor saw me pitch for the first time.

When did you realize that you were a college caliber baseball player?
--I realized I was a college caliber player after attending The Southern Maryland baseball camp. This is where I got my first looks.

What was the biggest factor in the school you finally chose to attend?
-- There were several factors including coaches, academics, and being only two hours from home.

What other schools were you considering?
-- Penn State, Maryland, Coastal Carolina, Richmond, VCU, Indiana, and UNC Charlotte.

What has been the biggest moment in your baseball career? -- The best game in which I have been a part of is The Big 26 buddy game. In this game I helped a kid with a disability learn and compete in a game of baseball.

Who do you play for over the summer? Why did you decide to play for them?
-- I play for The Mid-Atlantic Red Sox during the summer. I decided to play with them because the head coach of the team is my pitching coach, Mark Shives. I feel very comfortable playing for him because he notices things about my pitching that no one else can.

Is there a MLB player that you would compare your style of play with?
-- An MLB player that I would compare my style of play with is former New York Yankee pitcher Andy Pettitte.
Joe Giacchino Named to the Preseason All-CAA Baseball Team
"We are excited that three of seniors, Giacchino, Lopes, and Donkin, were picked first team All-CAA preseason," said University of Delaware head coach Jim Sherman. "These selections show the respect the coaches in our conference have for their abilities and also for our program." Defending conference champion Charleston was selected as the preseason favorite with 64 points and eight first place votes. UNCW was second with 52 points and received the only other first place vote.



Isaiah Pasteur Recognized as a Top-500 Player Nationally
Recognized as a Top-500 player nationally by Perfect Game ... honored as the 2014 Carroll County Times Baseball Player of the Year in 2014 ... as a senior, hit .483 with a county-best 25 RBI and nine doubles ... on the mound, went 3-1 with a 2.29 ERA and led the county with 44 strikeouts ... played for the Baltimore Orioles fall showcase scout team, the Oriolelanders ... National Amateur Baseball Federation Under-18 Tournament MVP ... Perfect Game WWBA World Championship All-Tournament Team accolades ... all-district, all-county and all-conference honors ... struck out 60 batters during junior season. Pasteur is now a freshman at Indiana University where he continues to play baseball.



River Laskey
Spalding High School
King College

Justin Meekins
Stephen Decatur High School
University of Maryland

Danny Johnson
Huntingtown High School
Shippensburg University

Noah Tucker
Tuscarora High School
Concord University

Michael Brown
St Mary's Ryken
Shepard University

Brock Smith
Liberty High School, VA
Potomac State

Nick DeCarlo
Gaithersburg High School
Mount St. Mary's University
Max Steinhorn
Walt Whitman High School
Commits to Amherst College

Nate Baxter, Cocalico High School, commits to play college baseball at Elizabethtown College

Former SOMDBASEBALL player's Drafted 2014 Major League Draft

RYAN METZLER- 9TH ROUND TORONTO BLUE JAYS
SOUTH CAROLINA AIKEN



BEN BREWSTER - 15TH ROUND CHICAGO WHITE SOX
UNIVERSITY OF MARYLAND



BRAD MARKEY- 19TH ROUND CHICAGO CUBS
VIRGINIA TECH


This Camp is a Great One for the Little Guys Too!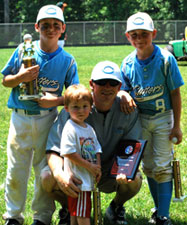 Student Athletes who have attended SOMD Baseball Camp
Where Are They Now?
Chris Archer
Clayton High School
Tampa Bay Rays

Gavin Floyd
Mount St. Joseph High School
Atlanta Braves

Brett Cecil
Dematha High School
Toronto Blue Jays

Steve Johnson
St. Paul's High School
Baltimore Orioles

Steve Clevenger
Mount St. Joseph High School
Baltimore Orioles

Nick Adenhart, Los Angeles Angels